News
Details

Published on Tuesday, 19 July 2016 10:38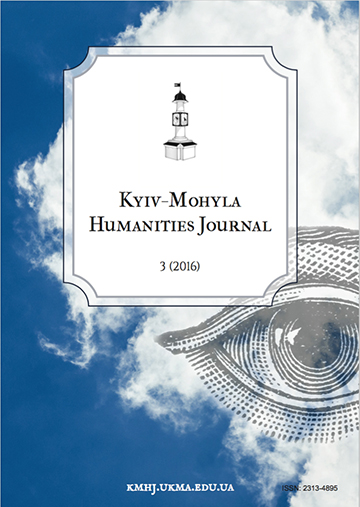 Kyiv-Mohyla Humanities Journal no.3 was issued on July 19.
"This issue of our journal, like previous issues, is thematic, and is devoted to the topic of "Ideology and the Humanities." In our opinion, this is a very relevant issue of deep and varied meaning for a country and culture that only a quarter century ago escaped from the clutches of totalitarianism, and now finds itself in a state of war, defending itself from an attack by the Russian Federation. We hope that for the rest of the thinking world this topic, so acutely important for us, is also significant!"
Professor Volodymyr Morenets
Editor-in-Chief
Ukrainian and in international researches are authors of current issue: Daniel Belgrad, Ying Zhu, Cyril Hovorun, Oksana Klymenko, Olga Bertelsen, Roman Horbyk, Sergiy Golovashchenko, Natalia Shlikhta, Olga Poliukhovych, Roman Veretelnyk, Oleksandr Pronkevych, Andriy Liubarets, Martha Martha Bohachevsky-Chomiak, Volodymyr Morenets, Lyudmyla Zaporozhtseva, Maria Melenchuk, Luciano Floridi, Sheldon Richmond, Cyril Hovorun, Olena Chemodanova.
Kyiv-Mohyla Humanities Journal is listed in Web of Science Core Collection (Emerging Sources Citation Index)
Journal is published with support of Viktoria Gumeniuk & Serhiy Seheda family, both NaUKMA graduates, and Yevgeniy Utkin.