NaUKMA Finished Fundraising Campaign for Encyclopedia of Renown Figures of Kyiv Theological Academy. Presentation of Encyclopedia was held on May 18, 2017 at Old Academic Building of NaUKMA.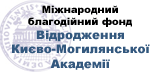 Тhе International Charitable Foundation for Renaissance of the Kiev-Mohyla Academy was founded to provide financial support for rekindling the educational and cultural heredity of the Kyiv-Mohyla Academy on its historical premises, for further development of the Academy as the National University of Kyiv-Mohyla Academy, and for financing other charitable activities of the Foundation.
The main tasks of the Foundation are following:
to further development of education and science, to perform scientific and educational programs, to provide support for scientists, students, teachers and pupils;
to further development of culture, particularly by performing national and cultural development programs accessible for all social groups, especially for low-income; to further development of cultural values and arts;
to provide support for talented creative youth;
to support protection and preserving of cultural heritage, historical and cultural communities, memorials of history and culture, grave places of outstanding representatives of the Ukrainian people;
to provide support for development of publishing, mass media, and informational infrastructure.
Requisites of the International Charitable Foundation for Renaissance of the Kiev-Mohyla Academy

Celebrating its 395th anniversary on October 15, 2010, Kyiv-Mohyla Academy announced the launch of the Restoration campaign, aimed at raising funds for restoration of 11 unique buildings of 17th-19th centuries located on the University's premises.
Since its revival in 1992, Kyiv-Mohyla Academy singly, without having any support from the state, keeps the buildings out of decay, providing active and insistent fundraising for the most urgent project and remedial works. Launching the ambitious Restoration Project, the University not just continues activity for renovating the physical state of the buildings, but also performs a socially important task attracting public attention to understanding of the process of historical monuments renewing as a weighty matter of state, and the University campus at Podil – as an important legacy for the whole Ukrainian nation.