News
Details

Published on Friday, 21 October 2016 06:09
November 10, 6 pm..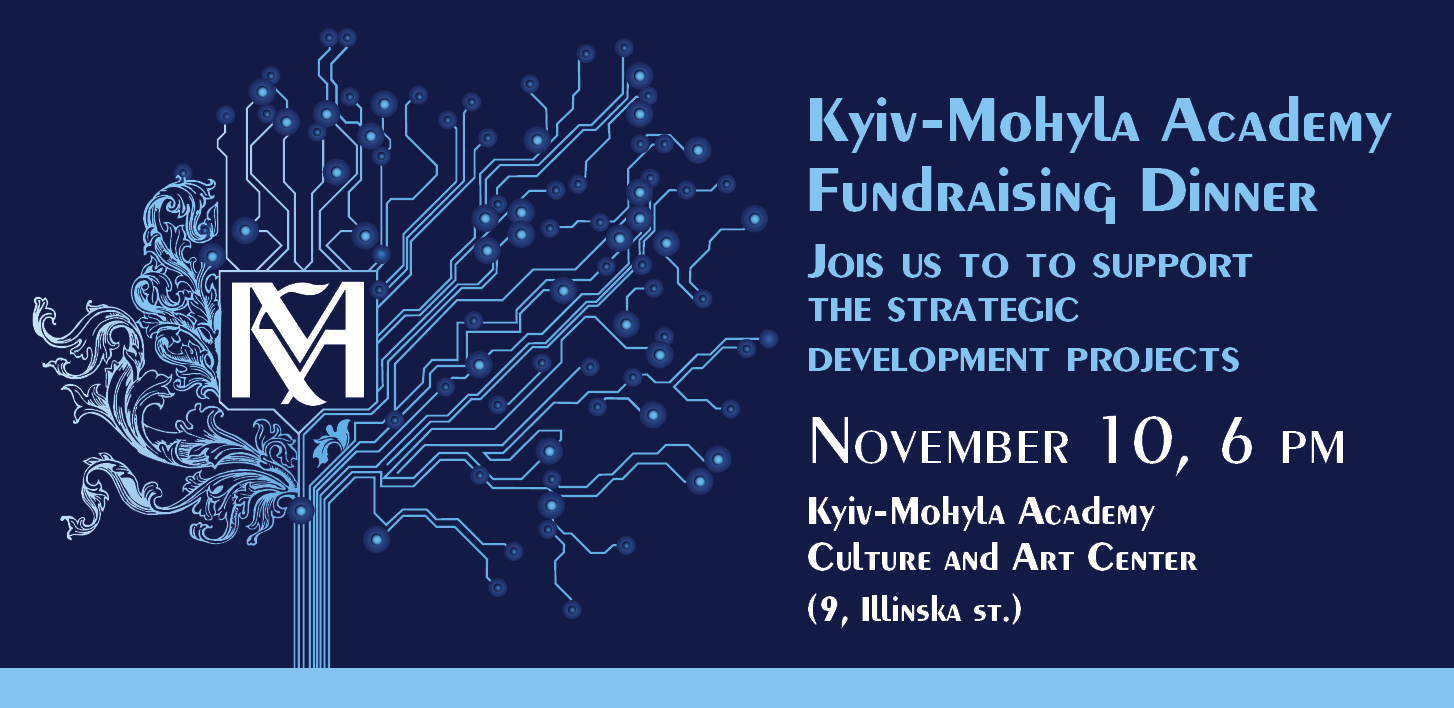 National University of Kyiv-Mohyla Academy is holding a Fundraising Event in support of the strategic development projects on November 10, 2016 in Kyiv, Ukraine. In the University's 2015-2025 Strategy the further development and expansion of scientific research activity is one of the key strategic goals. And the fundraising event on November 10 will bring together around 300 representatives of Ukrainian business, political and scientific elite, many of whom are Kyiv-Mohyla Academy alumni, with a main purpose of supporting the sustainable growth and development of Kyiv-Mohyla Academy.
As one of the oldest universities in Eastern Europe, Kyiv-Mohyla Academy is often compared to such esteemed Universities as Oxford in Great Britain, Sorbonne in France, and Harvard in the United States. Since its founding 400 years ago, the Academy has been an elite talent factory for our country's most prominent leaders. Counted among the many distinguished alumni of Kyiv-Mohyla Academy are 11 Ukrainian state leaders, 40 saints and thousands of key figures in social, cultural, economic and research areas of Ukrainian and the global society.
The mission of Kyiv-Mohyla Academy is to nurture and develop highly educated, patriotic, honest and creative personalities capable of independent critical thinking and responsible action. The University was the first in Ukraine to build the education system based upon Liberal Arts Education principles. Kyiv-Mohyla Academy was the first in Ukraine to award bachelor, master's and Doctor of Philosophy degrees. It was and remains the biggest innovator in the system of higher education of Ukraine.
Join the Fundraising Event to support Kyiv-Mohyla Academy strategic development projects. Register here or learn more information here (in Ukrainian).
Contribution to participate in the Fundraising Event - UAH 2 500 (first 30 persons - 1700 UAH).
Contribution to participate in the Fundraising Event and VIP-cocktail – 5 000 UAH (first 20 persons - 4000 UAH).
You can contact us by 380 44 425 1543