News
Details

Published on Thursday, 21 September 2017 14:01
This year Kyiv-Mohyla Academy had gathered 1400 freshmen at the first campus. Later university community moved to the place of Matriculation ceremony 2017 – Kontraktova Ploshcha. It was the renovation of the tradition, when such festive occasion was organized outside the university.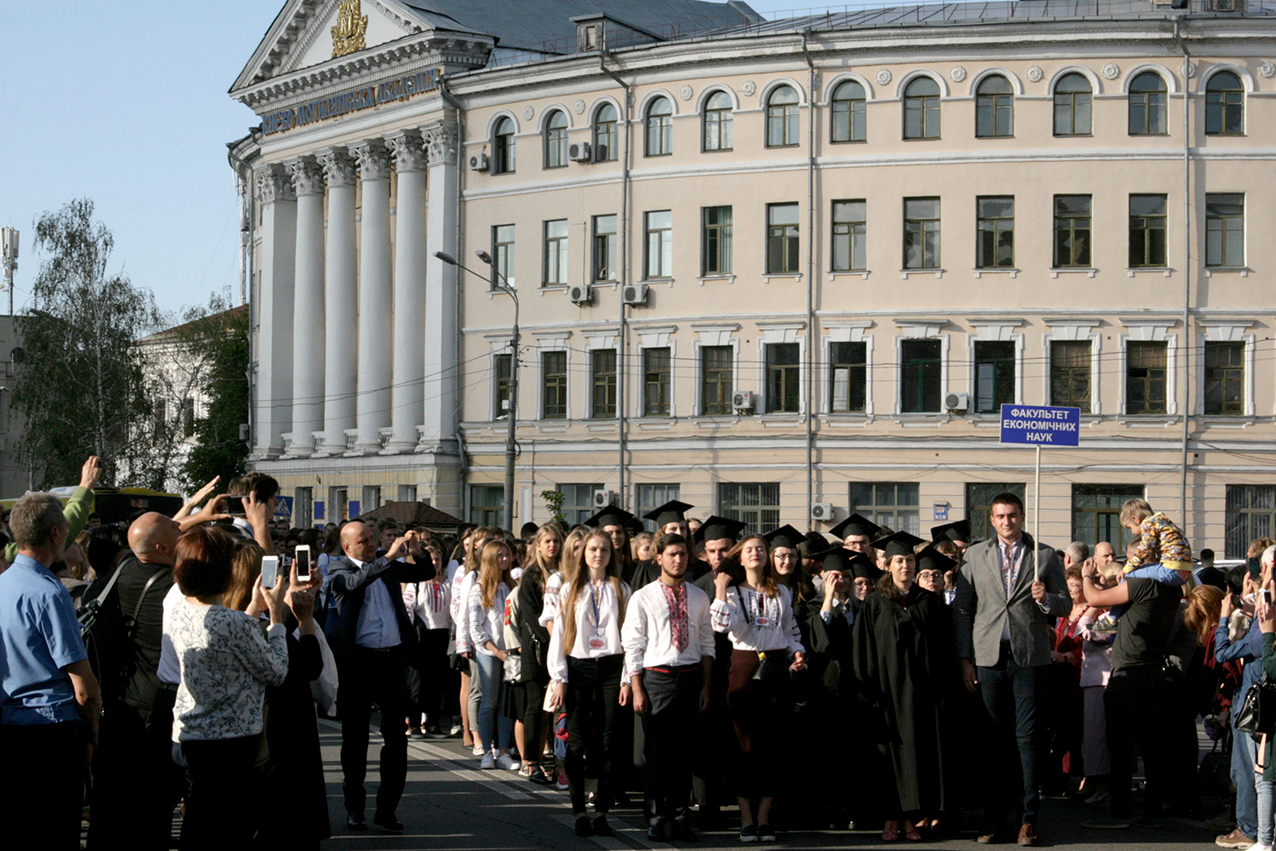 The traditional opening part, the flag-raising ceremony and hymn, was completed with laying flowers near Sahaidachnyi's and Skovoroda's monuments.
Congratulatory part has started with the opening speech of Andrii Meleshevych, NaUKMA's president:
"Firstly, Kyiv Mohyla Academy is the community. It is a kind of community that shares the same values.
Secondly, Kyiv Mohyla Academy [KMA] is an innovation. Here, among all Ukrainian universities there were firstly implemented bachelor program, master program, PhD program. KMA was the first university, which had elective courses. Moreover, it still maintains this system [of Liberal Arts Education]. This year electronic sign up system for disciplines became available. And for the first time we conducted a survey for students about quality of education. It is the essential instrument for quality assurance in higher education in Ukraine.
Lastly, Kyiv Mohyla Academy is an opportunities. Now it is the beginning of the academic year. But over two, three or four days you will see, how many events take place at the university. Academy gives the opportunities. And your task is to use them – to grow as a professional, as a student, and as a citizen of Ukraine".
Honorable guest Ivanna Klympush-Tsynadze, Vice-Prime-Minister for European and Euro-Atlantic Integration of Ukraine, visited Matriculation ceremony to congratulate students:
"Studentship is the most responsible period in your lives. This one defines your career and the entire life. It is a time of experiments, opportunities, contacts with the people, who will support you in the future. That is why I wish you to make every choice you have to with wisdom and lightness, to walk an interesting, active, and eventful student's path".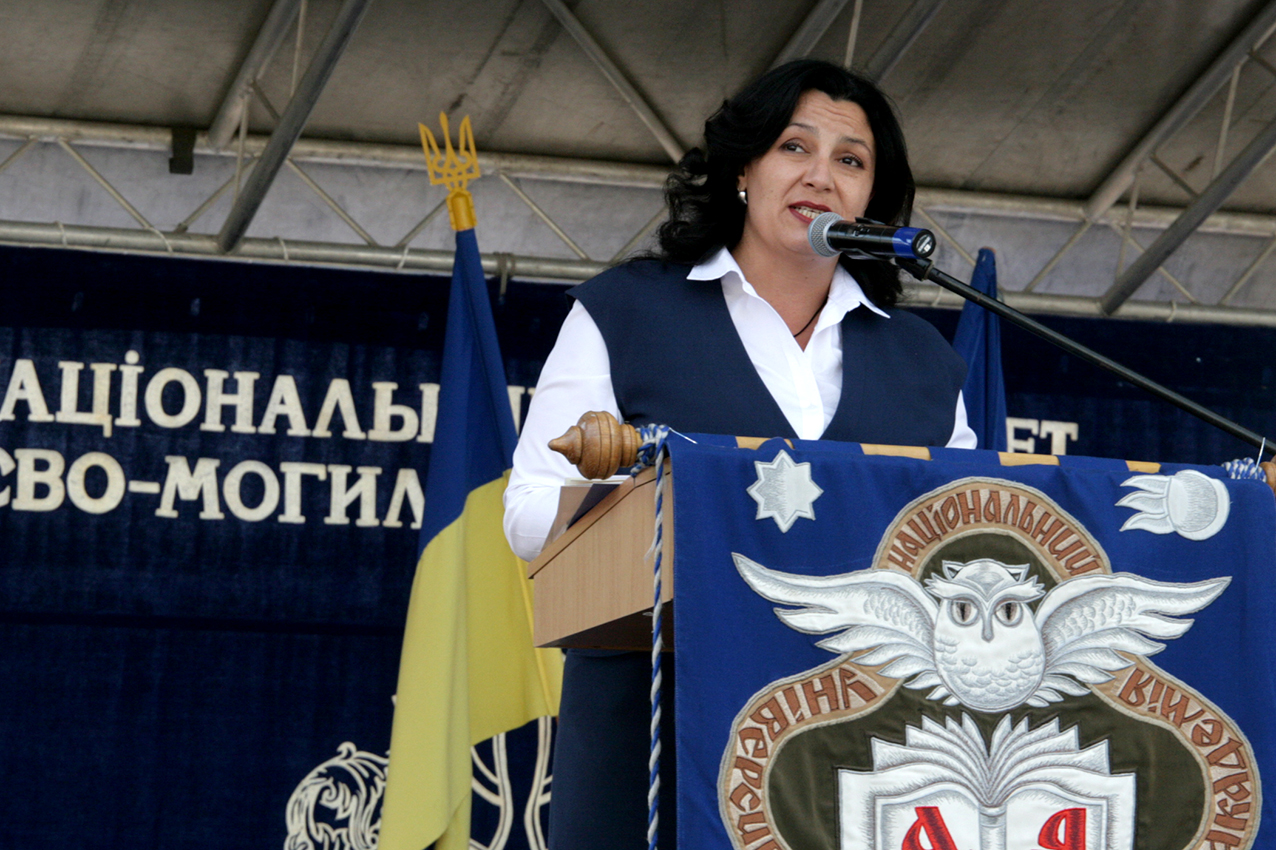 Volodymyr Chernobrovkin, head of the Psychology and Pedagogics Department, joined the congratulations and expressed them from the part of the whole NaUKMA professor and teaching stuff:
"I want to wish you not only get good education, but also go fully through the studying period at Mohylianka, fulfill it with emotions, impressions, discoveries, and meetings with interesting people".
Oksana Markarova, Kyiv-Mohyla Academy Alumni (Law Program 1997 and 1999) and First Deputy Minister of Finance of Ukraine expressed her greetings as well.
Traditionally Matriculation ceremony includes announcements of several contests' winners. "Best professor of the Faculty of Natural Sciences" and "Best professor of the English Language department" were funded last year by Taras Lukachuk, NaUKMA alumnus and successful top manager, to support his Alma Mater. The names of this year winners are: Bilko Denys Ivanovych (Department of Laboratory diagnostics of biological system) and Kachurets Oksana Petrivna (Department of English Language).
Another contest was founded two years ago by Anna Shevchenko from Cambridge University, granddaughter of prominent Ukrainian historian Fedir Pavlovych Shevchenko. The prize is given for the best scientific work on topics of Ukrainian history of pre-modern period. The name of the winner was announced by Anna's mother Olga Fedorivna Shevchenko. The winner is Oleksiy Smirnov.
NaUKMA's alumnus Yaroslav Yurchyshyn (Political Sciences Program 2010) executive director of Transparency International Ukraine, co-head of Reanimation Package of Reforms Board had joined the Matriculation ceremony:
"Academy can give you everything: will, self-fulfillment, energy. It gives you freedom to choose, who you want to be and how it will be. Nobody will do it for you, but Academy puts maximum efforts to help you to do that. Self-fulfillment means not only scientific career. Participation in different organizations and hobby groups also helps you. And the quantity of Mohylianka's alumni in different areas, such as business, politics, NGOs', clearly demonstrates that self-fulfillment here is guaranteed. Also the energy incorporates four hundred years tradition and modernity. You will feel that. Kyiv-Mohyla Academy teaches you to think critically, if you really want to. Mohylianka gives you the opportunities, if you want to. And, frankly speaking it depends on you, what kind of future Kyiv-Mohyla Academy will have".
Greeting race was finished by Honorary President of NaUKMA, Doctor of Philology, and Professor Viacheslav Briukhovetskii: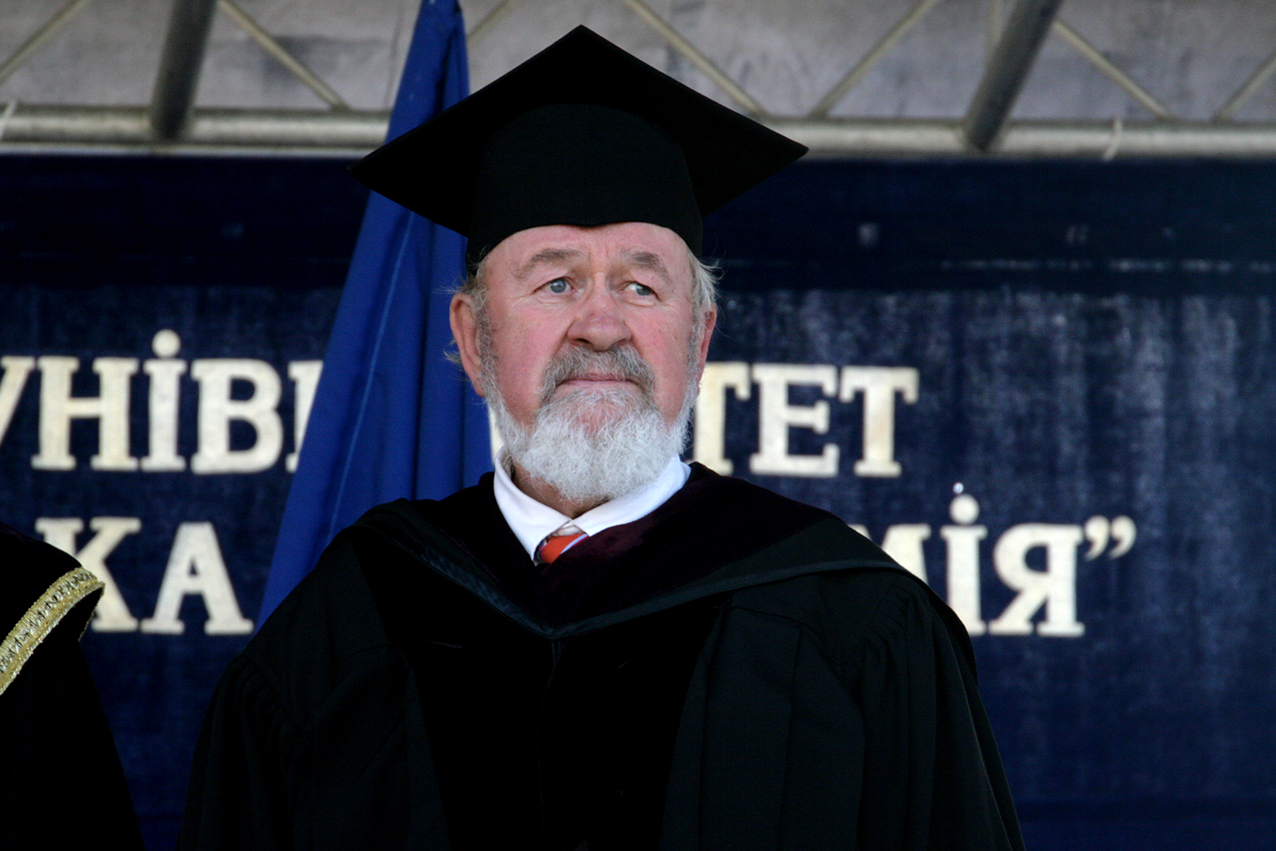 "This day is really unusual for you. It is a dream of many generations of Ukrainian to become a Kyiv-Mohyla Academy student. It is the second time we accept new students here at Kontraktova Ploshcha. The first time it was 25 years ago. Then we accepted 253 students. And now it is 1500. Today you take a big responsibility. Because, as it is said, Kyiv-Mohyla Academy community really exists, but it doesn't exist by default. There are people that even today want to change the basic values or destroy the community. And it depends on you, the future of Kyiv-Mohyla Academy, the place where you will grow".
Matriculation ceremony 2017 was finished with old and beloved tradition – to touch Academy's talisman turtle Alma, which was presented by first Mohylianka's alumni. Students believe that if you touch Alma and make a wish, it will come true.
Greetings to new students from Mohylianka's huge family! We wish you prosperous academic year!