News
Details

Published on Tuesday, 14 September 2021 07:17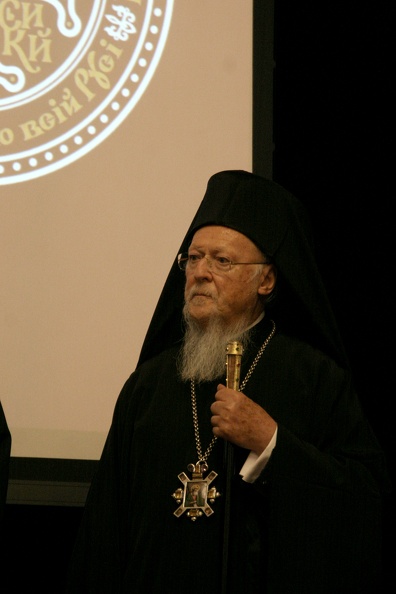 On 27 August 2021, in course of his historical visit to Ukraine, His All-Holiness Ecumenical Patriarch, Archbishop of Constantinople-New Rome Bartholomew, renowned scholar in the field of canonical law and the person, who introduced modern Orthodox Christianity to the global reader, was granted with the diploma of Doctor Honoris Causa of the National University of Kyiv-Mohyla Academy.
Doctor Honoris Causa title of NaUKMA was awarded to Patriarch Bartholomew by the decision of the NaUKMA Academic Council in December 20, 2018. However, the opportunity to grant the Doctor Honoris Causa diploma directly to the hands of His All-Holiness occurred only during the visit of the primate of global Orthodoxy to Ukraine in August 2021.
On the award of an Honorary Doctorate of NaUKMA, Patriarch Bartholomew delivered exciting and touching speech. "It is with much gratitude and joy that we accept the National University of Kyiv-Mohyla Academy's bestowal of a Doctorate Honoris Causa upon our humble person. We consider this gesture as a tribute paid to the Ecumenical Patriarchate, the Great Church of Christ, in recognition of its many initiatives, especially on matters related to dialogue, unity, creation care, solidarity and peace. It is an honor and a privilege to speak before you as we humbly receive this Doctorate Honoris Causa today."
In his address, Patriarch Bartholomew drew special attention to the history of granting Tomos on Autocephaly to the Orthodox Church of Ukraine. He recognizes this act as the only possible way of healing the division, uniting Orthodox Christians in Ukraine. He put it as an "act of responsibility on the part of the Mother Church."
His All-Holiness, who is often called "green patriarch" for his continuing attention to ecological consciousness, also reminded on the necessity to protect nature as the essence of "green ethos" of the Orthodox Church. "We cannot separate our concerns for human dignity, human rights or social justice from concerns for ecological preservation and sustainability. These concerns are inextricably linked," – he stated.
Patriarch Bartholomew made an emphasis on importance of uniting global efforts in addressing challenges, faced by the humankind: "We can face the global challenges of our times only together. Nobody — no nation, no state, no religion, no culture and scientific progress — can solve the current problems alone."
His All-Holiness also paid special attention to the long-standing connection between Kyiv-Mohyla Academy and the Ecumenical Patriarchate, mentioning that the university stands on the territory of the Stauropegic Epiphany Monastery, founded by the Patriarchate of Constantinople. For centuries, Stauropegic Epiphany Monastery played the key role in spreading Orthodox theological education and educating elites. The full text of the address in English can be found by the link.
Dr. Oleksandra Humenna, NaUKMA Acting President fished her greeting to His All-Holiness with the words: "You are the person, who builds bridges, not ramparts."