News
Details

Published on Thursday, 03 August 2023 13:26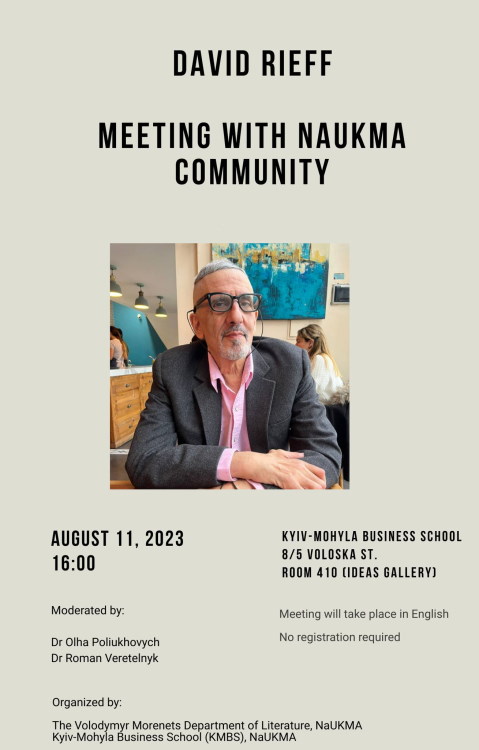 Meeting will take place in English
Time: August 11, 2023, 16:00
Place: Kyiv-Mohyla Business School (KMBS)
8/5 Voloska Street, Building 4
Room 410 (Ideas Gallery)
Moderated by:
Dr Olha Poliukhovych
Dr Roman Veretelnyk
Organized by:
The Volodymyr Morenets Department of Literature, NaUKMA
Kyiv-Mohyla Business School (KMBS), NaUKMA
David Rieff is a New York-based journalist and author. During the nineteen-nineties, he covered conflicts in Africa (Rwanda, Burundi, Congo, Liberia), the Balkans (Bosnia and Kosovo), and Central Asia. Rieff has written extensively about Iraq, Latin America, and is now covering the war in Ukraine. He has published numerous articles in The New York Times, the Los Angeles Times, The Washington Post, The Wall Street Journal, Le Monde, El Pais, The New Republic, World Affairs, Harper's, The Atlantic Monthly, Foreign Affairs, The Nation, and other publications. He is the author of eight books, including Slaughterhouse: Bosnia and the Failure of the West and A Bed for the Night: Humanitarianism in Crisis. Rieff's latest book In Praise of Forgetting: the Irony of Historical Memory was published in April 2016 by Yale University Press. He is also the author of Swimming in a Sea of Death, a son's loving tribute to his mother, the writer Susan Sontag, and her final battle with cancer.